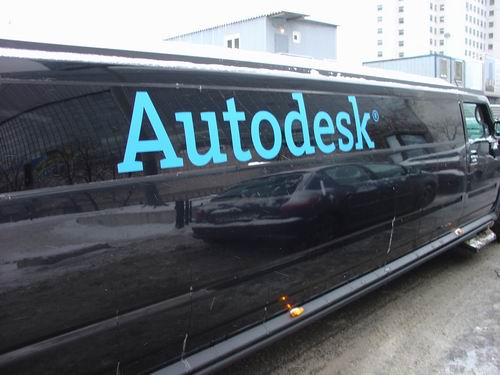 Recent news on Twitter Autodesk_CIS: "We are pleased to announce that this year the Autodesk Forum will take place on September 22-23 in Moscow. Make sure you mark these dates in your diary:)". As the editor of isicad.ru/isicad.net, I sought further details from Anastasia Morozova, Field Marketing Area Team Manager, Autodesk Russia and CIS.
Аnastasia Мorozova: Yes, now we can confirm that the Autodesk Forum will be on September 22-23 in Moscow. For the first time it is planned to continue for two days. All previous Forums were good but every time us, as the organizers, and participants suffered because one day was only enough to get a cursory view of the problems. The two-day format should help us to make this event interesting and above all practically useful for all our traditional clients – representatives of manufacturers and architecture-and-construction industry. This year for the first time we will have special sections for animators and graphic designers.
Typically Autodesk Forums have all kinds of cool surprises like
giving a lift to the attendees by Hummers …
… Probably two days will accommodate twice as many cool things as usual?
Certainly, the objective of our Forum is very clear – to deliver useful information and sensations that our clients don't get in their daily working routine. With Internet popularity it is becoming a more and more difficult task but we are also getting smarter and more inventive.
This year we have a who-o-ole bunch of interesting ideas which we are now working on. From demonstrating hardware technologies and various equipment that they write a lot about but not everybody has had a possibility to see it with one's own eyes, ask questions to the experts and see if it fits their company, to completely crazy ideas about demonstrating new computer games developed in Autodesk products. I think that for many of our clients it will be interesting to see how someone uses the products, which they employ to visualize their projects, for development of the most popular FPS or air-simulators. And if combined with powerful stereo-effects and state-of-the-art equipment... Actually, it's better to see this for oneself.
Two full days… You don't mean that everything will come down to specifics and bigger entertainment? Or you will engage some new formats after all?
New formats definitely will be present. First of all, two days finally give us an opportunity to include many presentations by our clients into the program. Typically, demonstrating already proven user experience is a much expected part of the event. Also, apart from the primary flow of presentations in the main auditorium, we are organizing several additional flows with presentations focused on implementation technology, lessons learnt and product uses, new software – those products that are at the stage of development... There definitely will be a session for programmers – who develop applications for our products. Obviously we plan a series of presentations for educations institutions. Many presentations will be given by our authorized partners. So participants will not only be able to get valuable information but also select a future supplier on the basis of the level of competence shown by the specialists of a particular partner. Certainly there will be special presentations by our partner - HP. This year NVIDIA also has become a Forum partner.
As you understand the Program is not finalized yet. More details can be found in July on our web site.